Content from Youtube can't be displayed due to your current cookie settings. To show this content, please click "Consent & Show" to confirm that necessary data will be transferred to Youtube to enable this service. Further information can be found in our Privacy Policy. Changed your mind? You can revoke your consent at any time via your cookie settings.
Consent & Show
About the LatamReady App
Imagine taking Oracle NetSuite to the next level: full tax compliance in the whole Latin American region with only one solution. Too good to be true?

The LatamReady App is an innovative Built-for-NetSuite solution that extends the power of Oracle NetSuite for your corporation to achieve full tax compliance in 18+ countries in the Latin American region, including Brazil, Mexico, Colombia, Chile, Peru, Argentina and more!
TAX COMPLIANCE ISSUES IN LATIN AMERICA
» CHOOSE YOUR PROBLEM «
Simplify and Automate Your Close Process
Efficiency through Automation:
Incorporating automation into the close accounting process streamlines operations and saves valuable time, enabling team members to focus on strategic tasks. Comprehensive workflow tracking ensures optimal efficiency by prompting tasks and seamlessly linking to relevant data within NetSuite.
Enhanced Accuracy and Confidence:
Centralizing critical processes within NetSuite with the LatamReady App's features enhances security, reduces confusion, and promotes team accountability. Automated features, including accruals, eliminate the need for extra spreadsheets, keeping the process close within NetSuite.
All-in-One Compliance:
The LatamReady App empowers companies to handle compliance tasks within NetSuite, such as e-invoice and e-payment processing, generating legal monthly reports, and more. It is fully compatible with the SuiteTax version of NetSuite.
Customized Solutions for Every Country:
Every company and country has unique accounting requirements, requering tailored closing approaches. With NetSuite and the LatamReady App, powerful customization tools facilitate individual or consolidated closing of subsidiaries, accounts, and segments, ensuring a streamlined process that aligns with your evolving business needs.
⬇️ Let's solve tax compliance in... ⬇️
Works natively within Oracle NetSuite
As a Native App, LatamReady works 100% inside of NetSuite. Just like NetSuite itself, the LatamReady App is cloud-based and very easy to use. Connected with locally-certified entities in the region, we spent years building one of the most robust tax compliance solutions within Oracle NetSuite in Latin America. No more juggling multiple accounting software!

Want to know more?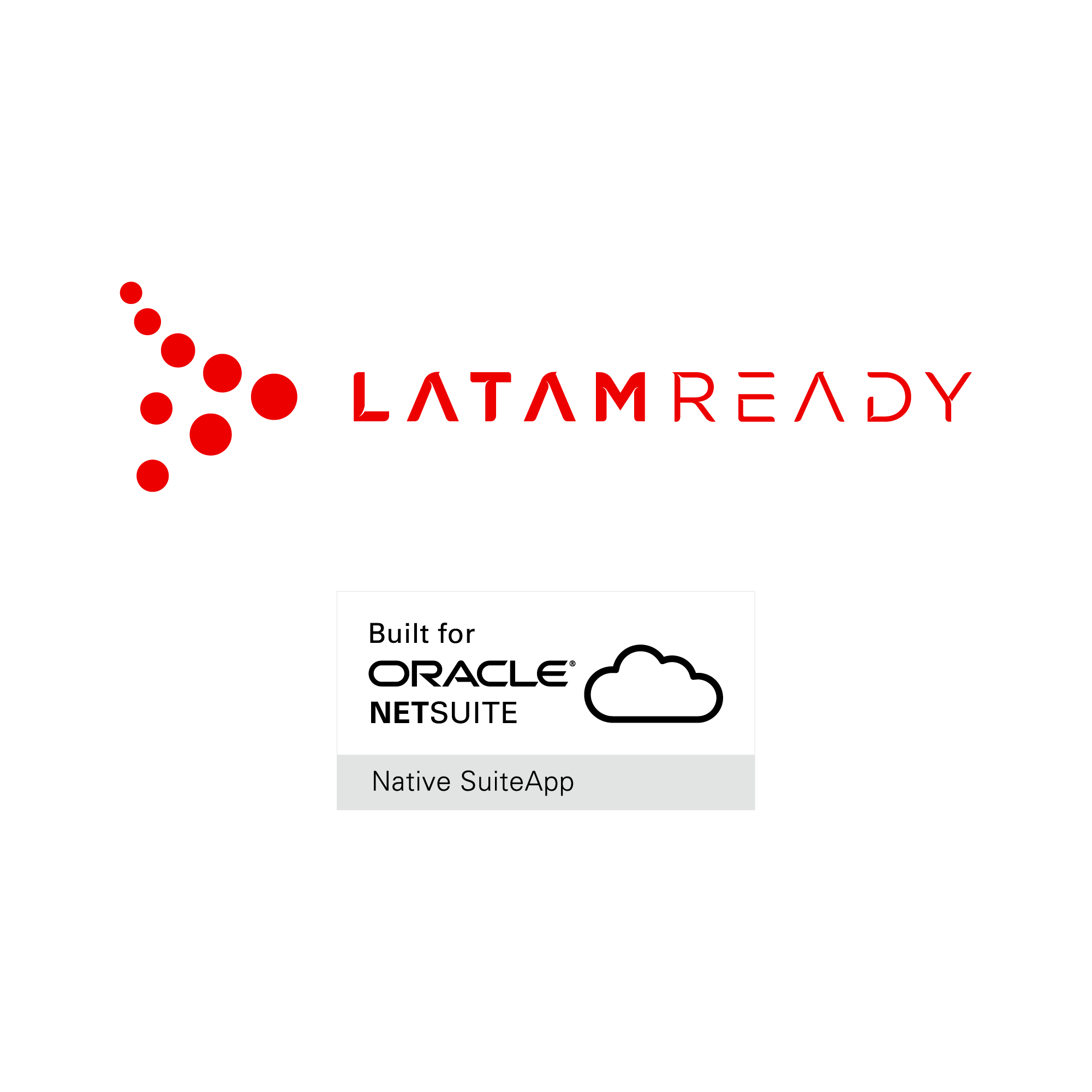 The Ultimate Tax Compliance Solution
Solid Client Support Structure
★★★★★
Read what big international corporations have to say about the LatamReady App and how we improved their internal processes within Oracle NetSuite Cloud ERP.
Content from Youtube can't be displayed due to your current cookie settings. To show this content, please click "Consent & Show" to confirm that necessary data will be transferred to Youtube to enable this service. Further information can be found in our Privacy Policy. Changed your mind? You can revoke your consent at any time via your cookie settings.
Consent & Show
5-star App
LatamReady is a special case in Oracle NetSuite's portal. It has more than 30 reviews of 5 stars only!

More than 450 international companies have trusted us to achieve their NetSuite Tax Compliance full potential.

Don't believe us, believe them!
Latin America Is Ready! Are You?